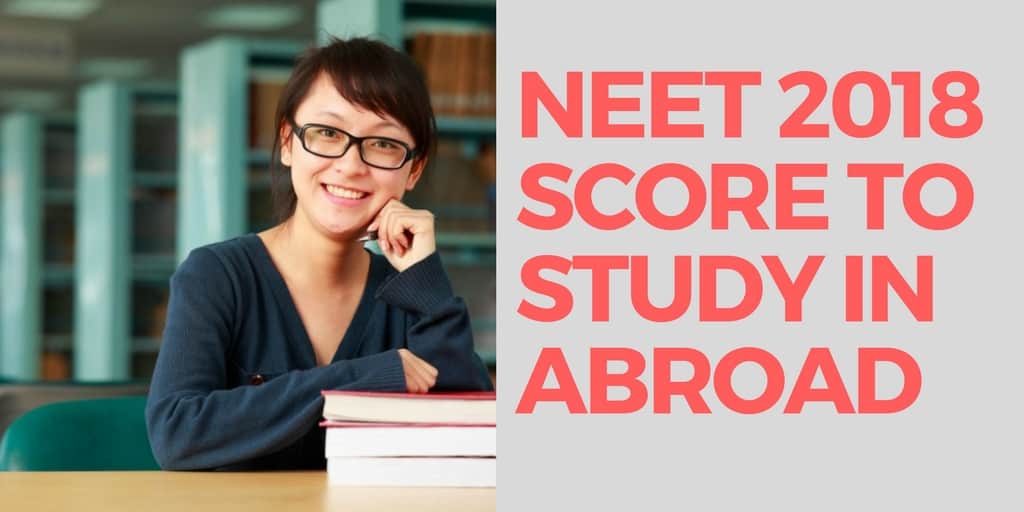 In 2018, MCI made NEET mandatory even for the students who want to take admissions in foreign medical universities. So, all students willing to study MBBS in India or abroad are required to take the NEET exam and qualify it. However, as a student, you might have doubts regarding the minimum NEET score which is needed to take MBBS admission in abroad. Please continue to read as we answer your doubts.
Minimum NEET score (percentile) to take admission in foreign medical universities
CBSE, which is responsible for the NEET exam publishes the score in percentile. A percentile is a relative score of how you as a student compare with the others who took up the NEET exam. NEET qualifying score for 2018 differs for students belonging to different categories. Here are the details:
| CATEGORY | CUT OFF PERCENTILE |
| --- | --- |
| General | 50th Percentile |
| OBC | 40th Percentile |
| SC | 40th Percentile |
| ST | 40th Percentile |
| UR & PH | 45th Percentile |
| OBC & PH | 40th Percentile |
| SC & PH | 40th Percentile |
| ST & PH | 40th Percentile |
NEET 2018 Cut-off score for studying in abroad
The exact cut-off score for 2018 will be available after CBSE publishes the NEET 2018 results. It is because the cut-off is decided based on how the other students perform. You should actually focus on the percentile score.
Update (06/06/2018): CBSE has declared the NEET 2018 scores and the cut-off list. Here are the details of the NEET cutoff for 2018:
General – 119
OBC – 96
ST/SC – 96
Did you manage to clear NEET 2018? Do let us know below.
FAQs for studying in abroad with NEET 2018
Q: Will I get admission in abroad if I qualify as per the info above?
A: Yes, most likely. Qualifying NEET is only a requirement by MCI. So, universities in abroad are not concerned about how you perform in the NEET. However, depending on the country you are applying for, the university there can have its separate set of eligibility requirements. However, there are bright chances that you will get admission in abroad.
Q: Will a higher NEET score give me any advantage in studying in abroad?

A: As already mentioned, NEET is only for the MCI. A foreign university will not recognize NEET for offering you scholarship. A higher NEET score will not give you any advantages outside of India. You just need to qualify NEET in order to be eligible to study in abroad and then practice in India as a doctor.
Q: I failed to qualify NEET 2018. Can I still take admission to study MBBS in abroad?
A: Yes, you can but there's a BIG limitation. Since you failed to meet the eligibility criteria set by the MCI, you will not be able to practice as a doctor in India. You can practice as a doctor in any other country of the world by clearing the qualifying exam for that country, but you cannot return back to India and practice here. So, if you plan to never come back to India, then your NEET score doesn't matter.
For any questions, feel free to submit a comment below and we'd be happy to answer. Also, you can contact us if you are looking to study MBBS in a foreign country.