Study MBBS in Bosnia and Herzegovina: 2022 fee structure, admissions, eligibility
Bosnia and Herzegovina, commonly called by its initials "Bosnia",  is a beautiful country in southeast Europe. The country is a fast-growing study destination for medical students from India and other countries. This web page provides you with all the information about the country and prospects of studying medicine in Bosnia.
Medical Education in Bosnia
Bosnia and Herzegovina (Bosnia or BiH) is a country in South and Southeast Europe. The bordering countries to Bosnia and Herzegovina include Serbia, Croatia, and Montenegro. The climate in BiH is quite continental, making it match the climatic conditions in different parts of India and the world. The country sees warm summers and cold winters. The temperature typically ranges from -5 degrees Celsius to 30 degrees Celsius. The relaxed, calm, and peaceful atmosphere makes the country one of the best places to study MBBS abroad.
Bosnia is an excellent destination for students from India to study MBBS in Europe while ensuring that their knowledge will be equally helpful and valuable when they return to India and practice as a doctor. Alongside High-Quality education, the low cost of living is another factor that makes the country appealing to students. Staying in the country and studying is quite affordable, and hence the destination is fit for typical Indian families. MBBS in Bosnia is available in 100% English medium and approved by WHO, which fulfills the parameters set by the NMC (erstwhile MCI).

Highlights about MBBS in Bosnia
| | |
| --- | --- |
| Eligible students | 50% score in PCB in Sr. Secondary examination |
| Medium of instruction | English medium |
| NEET exam requirement | Required. Minimum qualifying score |
| MBBS program duration | 6 years (including internship) |
| IELTS, TOEFL or PTE | Not required |
| MBBS program fee | ₹2.40 Lakhs per year |
| Cost of living (food and accommodation) | ₹17,000 per month |
| Validity in India | Yes, valid. |
| Application deadline | 15th Sept 2022 |
| Approved by | WHO, NMC, FAIMER, WFME |
Why you should go to Bosnia and Herzegovina to study MBBS?
Bosnia is a beautiful destination, but that's not all about it. There are a number of reasons for which students choose Bosnia for their higher education. Here are just a few of the many advantages of studying MBBS in Bosnia and Herzegovina:
➦ Fully English medium curriculum
➦ Affordable tuition fees
➦ Low cost of living
➦ Degree Recognized All Over the World
➦ Good Climate throughout the year
➦ Universities approved by WHO and NMC
➦ Easy admissions, no competitive exams
➦ Highly qualified faculty
➦ Eligible to take USMLE, PLAB; etc
➦ Covered under ECTS & Bologna Process
➦ Students can work in any European country
➦ Degree fully valid in India
Quality of Education: Medical studies in Bosnia and Herzegovina are well-known. The Medical faculty of the University of East Sarajevo is one of the country's oldest and most reputable medical schools. Many universities in Bosnia are approved by the WHO and listed in the World Directory of Medical Schools. MBBS teaching universities in Bosnia follow the guidelines and curriculum recommended by the World Health Education (WHO) and the Association of Medical Schools in Europe (AMSE).
Affordable tuition fee: MBBS Education in Bosnia and Herzegovina is affordable, making it fit the requirements of Indian students. The overall cost of university fees is far less than that of a private medical college in India. In short, students will get a better education for a lower overall cost.
Safety and Security: Students' safety is paramount when they go to another country to study. Bosnia ranks 72 on the Global Peace Index 2021. In comparison, India ranks at 135. The lower value means a more peaceful and safer country. Hence, living and studying in Bosnia is safe, even for girls.
Diversity: The Bosnia-Herzegovina medical schools accept students regardless of nationality, religion, or gender. As a student, you will be part of a multi-cultural learning experience free from discrimination.
Prospects of settling in Europe: Studying MBBS in Bosnia and Herzegovina is an opportunity for anyone who wants to work and settle in Europe. After completing their studies, the graduates can move to any European country and practice as a doctor. The degree is accepted in all European countries and the rest of the world.
Study MBBS in Bosnia (2022 Session)
Best University for MBBS studies:
University of East Sarajevo
University of Sarajevo
Apply now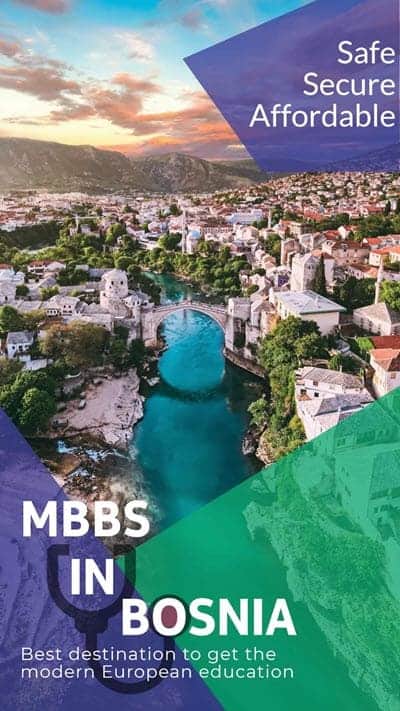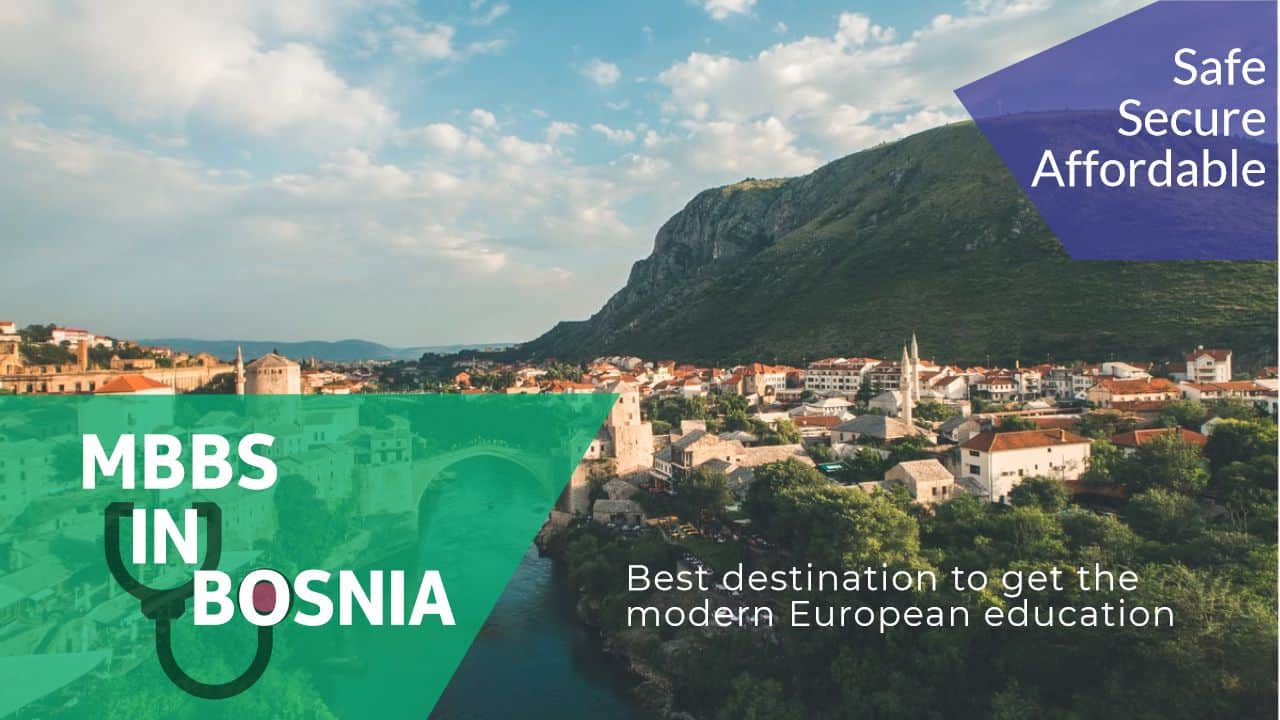 List of Medical Universities in Bosnia and Herzegovina (2022 list)
Before you decide to take admission to study MBBS in Bosnia, you should make sure that the university that you choose is fully accredited by the relevant authorities or state bodies. As such, the following medical universities in Bosnia and Herzegovina are a part of the WHO's World Directory and you can choose between them.
| | |
| --- | --- |
| 1 | University of East Sarajevo |
| 2 | American Northwest University |
| 3 | International University of Goražde |
| 4 | Sarajevo School of Science and Technology |
| 5 | University of Banja Luka |
| 6 | University of Mostar |
| 7 | University of Sarajevo |
| 8 | University of Tuzla |
Fee structure: Tuition fee for MBBS in Bosnia ranges between 3000 to 4000 Euros per year.
2022 Admission Process to Study MBBS in Bosnia

The procedure to get admission in Bosnia is quite standard and matches the working of other European countries. However, it can take time to complete the necessary approvals and visa application. Here is the step-by-step admission procedure.
Student documents: Apply online from India. The university then checks the documents and if the student matches the eligibility requirements, the university starts with the admission process.
Entrance exam: The university will conduct a short entrance exam  (a format is provided beforehand).
Ministry Approval: International students need to be registered with the Federal Ministry of Education and Science, for which your documents will be submitted. The approval process can take several days.
Visa Application in India: The university will issue the necessary documents required by the Embassy to grant a student visa. The documents along with filled up visa application form should be submitted to the Embassy of Bosnia in New Delhi.
Visa Approval: It takes about 1 week for the Embassy to review the visa application and issue a visa.
Travel: The student can travel to Bosnia after getting his/her visa and start their study program.
Visa Extension: After the arrival, the students will need to apply with the Ministry of Internal Affairs to get a visa extension (temporary residency).
Recommended Best University for MBBS Study in Bosnia and Herzegovina
University of East Sarajevo
The University of East Sarajevo with its Faculty of Medicine located in the
Foča city is a public (state-funded) university. The faculty of medicine has been providing students with quality education since its foundation in the year 1992.
University of East Sarajevo offers medicine study programs including undergraduate medicine and dentistry programs, alongside post-grad and doctorate programs in English language to international students. The university has a campus spread in over 6000 sq. meters with great infrastructure that has been upgraded to the modern needs, including all classrooms having computers and media projectors. The laboratories are also fully equipped with the necessities relating to the human body.
The university has its own hospital where students can practice and learn. The university also has its dormitory (hostel) for the university students.
Eligibility requirements to study MBBS in Bosnia in 2022
The NMC has laid down some minimum qualification guidelines which should be met by all students who plan to study MBBS abroad. On topc of that, medical universities in Bosnia also have some eligibility requirements. Here's a quick overview.
Age requirement: NMC states that students willing to study MBBS in Georgia must attain an age of 17 years by the end of year in which the admission is sought (that is 31st of December 2022). You can take admission if you have not yet completed 17 years of age, provided that your age will be 17 years by 31st December of the same year.
For example, if your current age is 16 years and eight months in May 2022. Then you can take admission in 2022 since you will complete the age of 17 by the end of the year.
Academic credentials: Students should have completed their Sr. Secondary education, i.e., 10+2 with at least 50% marks in Physics, Chemistry, and Biology.
Students under the SC/ST can get some relaxation in India, however, most universities in Georgia mandate a 50% score in PCB.
NEET exam requirement: As per NMC guidelines, every student must attain a qualifying score in the NEET exam to study MBBS overseas.
English language proficiency: All students must have an understandable knowledge of the English language. Since the study program is in English, students must be capable of understanding and interacting in English.
Hostel facility for MBBS students in Bosnia
Some universities in Bosnia and Herzegovina have built their own dormitories while others require students to arrange their own accommodation. As an example, the University of East Sarajevo has its own modern dormitory dedicated to the MBBS students in the Faculty of Medicine. We recommend that students choose a university that has its own hostel facility to have a worry-free arrival in the country with a pre-allocated room where they can relieve themselves. Students can also rent appartments to make for their stay in Bosnia and Herzegovina.
We recommend that the students stay in the university hostel for safe living and also for easy transit to the university campus. It is important at least in the first year because the region is new and it needs some time for the students to get used to it. Students can later on consider external dormitories or apartments to improve the quality of their stay.
Average cost of living and food in Bosnia comes to be around ₹17,000 per month.
Indian food is also available for students studying MBBS in Bosnia. We are making further efforts to improve the availability of a wider variety of Indian foods suiting students from different parts of India.
Get started now
Admission, interview, visa processing etc can consume a lot of time. You should apply timely to get seats in good universities and join your classes timely.
Fill in the form and we will help you get started.
Enter your contact details
FAQs About MBBS Study in Bosnia and Herzegovina
What is the Medium of Instruction in Bosnia?
English is the medium of instruction in most of the educational institutes that intake international students. The universities also have programs in Bosnian and Serbian language for local students or students belonging to the regions that use those languages. If you apply from India, your course will be in English medium (assured in the universities that we promote).
How Safe is it to Study & Live in Bosnia?
Bosnia and Herzegovina is a very safe country. For a factual comparison, Bosnia ranks at number 72 as per the Global Peace Index. Whereas USA and India rank 122 and 135 respectively. So, as a country, Bosnia and Herzegovina are much more safer than India or the United States of America.
Bosnia being a tourist attraction, people of Bosnia are very welcoming towards people from other countries. You will not face any discrimination or living difficulties during your study program in Bosnia.
Is MBBS from Bosnia and Herzegovina valid in India?
Yes, MBBS from Bosnia and Herzegovina is 100% valid in India. Just make sure that you meet the eligibilty requirements set by the MCI or NMC i.e. you must meet the age criteria and you must have a passing score in the NEET exam.
What are the Future Prospects after Completing MBBS in Bosnia?
You can make a lot of career choices aftercompleting your medicine program in a medical university in Bosnia and Herzegovina. You can either return back to India, or you can start working in Georgia itself. You can also move to some other country to pursue further studies or start practicing as a medical doctor.
Students can practice as a doctor in any country of the European Union.
Students can pursue their higher education (post graduation) in Bosnia or any other country since the degree is fully valid.
Students can come to India and appear in the NEXT (National Exit Test) organized and start practicing as a doctor.
What is the duration of MBBS course in Bosnia?
The duration of MBBS program in Bosnia is 6 years including internship. It is as per the international standards and the guidelines issued by the WHO.
Can I take transfer from Ukraine to Bosnia?
Limited number of seats are available for students who wish to transfer from Ukraine to Bosnia. Do note that transfer is only available in the first, second and third year. Please try to apply as early as possible and also obtain your transcripts from Ukrainian universities.
What is the flight route to reach Bosnia from India?
There are many routes available for traveling from India to Bosnia. There are no direct flights to Sarajevo. Most flights go through a layover in UAE (Dubai, Sharjah), Kuwait, or Turkey.