Study MBBS in Serbia: 2023 fee structure, Universities, Admission process
Worlin Education now offers another fantastic destination for students seeking to Study MBBS in Europe. Serbia is a country in Central and Southeastern Europe. MBBS from Serbia is 100% compliant with the new NMC guidelines. Students from India are showing a strong interest to study MBBS in Europe. Hence, Serbia, as well as Bosnia turn out to be the finest countries to study MBBS in 2023.
Medical Education in Serbia
Serbia is landlocked, sharing borders with Bulgaria, Romania, Hungary, Bosnia, and Croatia. It is in the process of joining the European Union, making it an even more influential country. Serbia has a good standard of living and is a great destination to grow your career as a doctor. In 2023, Serbia is one of the best places to study MBBS abroad, and you should not ignore it from your consideration.

Republic of Serbia is a rising destination for students preferring to study MBBS in Europe. The country fulfills the updated NMC (formerly MCI) norms about the curriculum, duration of the study, and registration prospects after completion. Hence, Indian students who educate in Serbia can return to India and obtain a license to practice in India. Moreover, the degree is widely accepted, making the graduates eligible to work in any other European country. Serbia offers affordable medical education, which makes it an ideal destination for Indian students who want to avoid the high costs of private medical universities in India. Medical faculties of top universities in Serbia are approved by WHO and offer MBBS programs in 100% English medium.
Highlights about MBBS in Serbia
| | |
| --- | --- |
| Eligible students | 50% score in PCB in Class XII |
| Medium of instruction | English medium MBBS program |
| NEET exam requirement | A qualifying score is required |
| MBBS program duration | 6 years (including internship) |
| IELTS, TOEFL or PTE | Not required |
| MBBS program fee | ₹2.75Lakhs per year |
| Cost of living (food and accommodation) | ₹17,000 per month |
| Validity in India | Yes, valid. Fulfills all guidelines of NMC |
| Application deadline | 15th Sept 2023 |
| Entrance exam | Yes, a simple entrance exam is there |
| Approved by | WHO, FAIMER, WFME |
Why you should go to Serbia to study MBBS? – The benefits
Serbia is an upper-middle income economy with ample resources. The climate is also neither too hot and nor too cold. Hence, it is a nice place to study, work and even to settle down. As a student of MBBS, you will experience the Serbian culture and hospitality – which carriers a lot of positivity. Here are some of the important things that are of advantage if you study MBBS in Serbia.
➦ European country, joining European Union in the coming years
➦ Universities approved by WHO, FAIMER
➦ Fully compliant under new norms of NMC
➦ Affordable tuition fees
➦ Low cost, yet good standard of living
➦ Degree valid for working anywhere in the world
➦ Easy entrance exam for admission
➦ Quick approval of student visa
➦ Highly qualified faculty
➦ Eligible to take USMLE, PLAB; etc
➦ Students can work in any European country
➦ Degree fully valid in India
➦ Good Climate throughout the year
Quality of Education: Most of the top medical universities in Serbia are state-owned (govt. universities). The Faculty of Medical Sciences at the University of Kragujevac is a well-known and highly recommended university to study MBBS. Top universities in Serbia have state-of-art facilities and are equipped with modern laboratories providing high-quality education using the latest teaching methods and techniques.

Affordable tuition fee: One of the reasons why Indian students go abroad to study MBBS is the exorbitant fee charged by Indian medical schools. The Govt. Universities in Serbia provide a lot better education for a significantly lesser overall cost (living costs and tuition fees combined). The average annual tuition fee in Serbian medical universities is about 5,000 Euros.
Safety and Security: Serbs are very welcoming of foreigners. Serbia is free from any racial or social discrimination against foreigners. Serbia is ranked 52 on the Global Peace Index 2022. In comparison, India ranks at 135. The lower value means a more peaceful and safer country. Hence, you can live, study and grow in Serbia without worrying about your safety.

Prospects of settling in Europe: Studying MBBS in Serbia is a good pathway to work and settle in Europe. Residency status in Serbia is already valuable and will become even more valued when Serbia joins the European Union.  You can work in Serbia or move to other European countries and practice as a doctor. The degree is recognized throughout Europe and the rest of the world..
Study MBBS in Serbia (2023 Session)
Best University for MBBS studies:
University of Kragujevac
University of Novi Sad
Apply now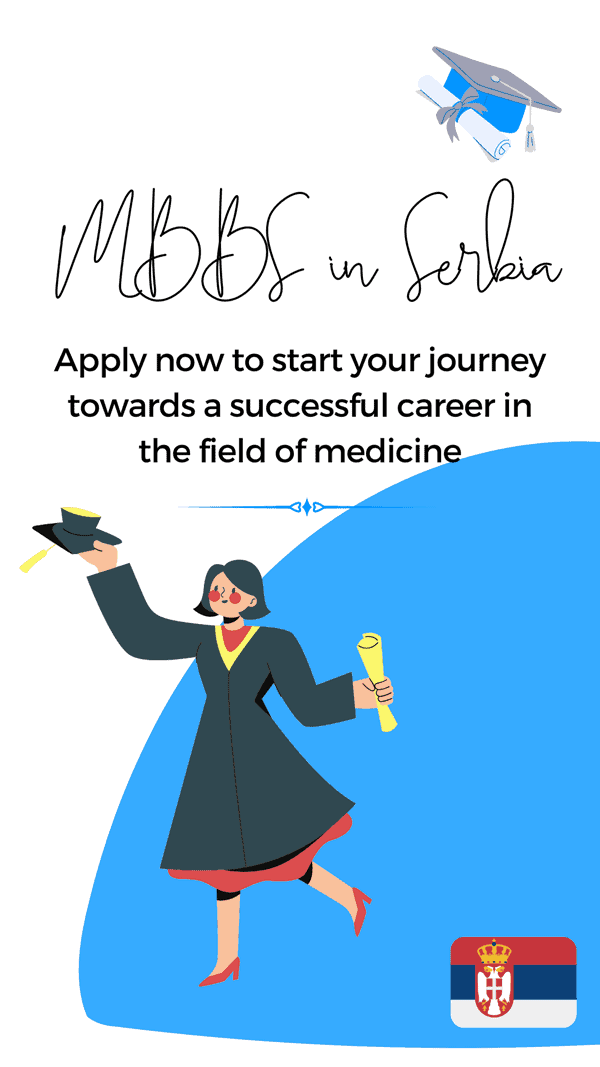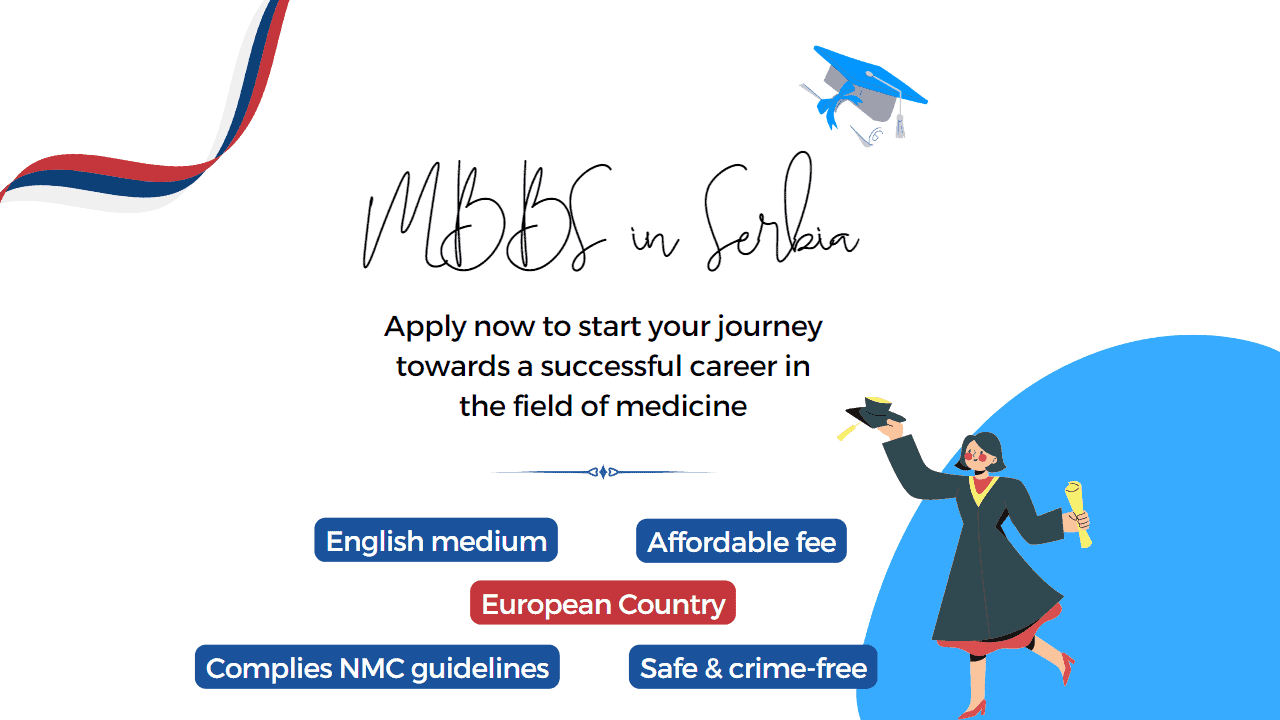 List of Best Medical Universities in Serbia (2023 edition)
You must take admission to an accredited and authorized medical university. As such, the following are the best universities to Study MBBS in Serbia.
| | |
| --- | --- |
| Sr. No. | University Name |
| 1 | University of Kragujevac |
| 2 | Military Medical Academy, University of Defence |
| 3 | University of Belgrade |
| 4 | University of Nic Faculty of Medicine |
| 5 | University of Novi Sad |
Fee structure: Tuition fee for MBBS in Serbia ranges between 5,000 and 7,000 Euros per year.
MBBS Admission Process for Serbia

The procedure to get admission in Serbia is quite standard and matches the working of other European countries. However, it can take time to complete the necessary approvals and visa applications. Here is the step-by-step admission procedure.
Application and documents: Apply with us. We will forward your documents to the university in Serbia for evaluation.
Entrance exam: The university will conduct a short and easy entrance exam.
Ministry Approval: International students need to be registered with the Serbia's Ministry of Education. It can take a few weeks.
Visa Application in India: The university will issue the invitation letter and other documents required by the Embassy of Serbia to grant a student visa. Thereafter we will submit your visa application to the Embassy. Visa approval can take about 2 weeks.
Travel: It's finally the time to travel and join your study program.
Start studying: You can start studying and proceed towards your aim of a world class health care professional.
Eligibility Criteria to Study MBBS in Serbia in 2023
The NMC has laid down some minimum qualification guidelines that all students who plan to study MBBS abroad should meet. Universities in Serbia also have some additional requirements beyond those required in India by the NMC.
Age requirement: Students willing to study MBBS in Serbia must attain an age of 17 years by the end of the year in which admission is sought (31st of December 2023). You can take admission if you have not yet completed 17 years of age, provided your age will be 17 by 31st December of the same year.
For example, if your current age is 16 years and eight months in May 2023. Then you can take admission in the 2023 session as you will complete the age of 17 by the end of the year.
Academic performance requirement: Students should have completed their Sr. Secondary education, i.e., 10+2, with at least 50% marks in Physics, Chemistry, and Biology.
Students under the SC/ST can get some relaxation in India. However, most universities in Serbia mandate a 50% score in PCB.
NEET exam requirement: As per NMC guidelines, every student must attain a qualifying score in the NEET exam to study MBBS abroad.
English language proficiency: All students must have an understandable knowledge of the English language. Since the study program is in English, students must be capable of understanding and interacting in English.
Entrance exam: Your university in Serbia will take an easy entrance exam before granting admission. It is a simple exam related to the concepts you have already studied.
Get started now
Admission, entrance exam, visa processing, etc., can consume much time leading to delays in joining classes. You should apply timely to get seats in good universities and join your classes in time.
Fill in the form, and we will help you get started.
Enter your contact details
FAQs About MBBS Study in Serbia
What is the Medium of Instruction for MBBS in Serbia?
English is the medium of instruction in most educational institutes that intake international students. The universities also have programs in the Serbian language for local students or students from the regions that speak Serbian. If you apply from India, your course will be taught entirely in English language.
Is it safe to stay in Serbia?
Yes, Serbia is a country having a low crime rate. You will not face any trouble or discrimination during your study program. For a factual comparison, Serbia ranks at number 52 on the Global Peace Index. In contrast, India is ranked at 135.
Is MBBS from Serbian university valid in India?
MBBS degree from a Serbian medical university is fully valid in India. You will be eligible to return to India and take the NEXT exam to register yourself as a doctor in India.
Serbian universities comply with the new notification of the NMC and other international bodies. Do note that you must meet the eligibility criteria set by the NMC.
What is the duration of MBBS course in Serbia?
The duration of the MBBS program in Bosnia is 6 years. It includes internship and the duration of the program complies with the NMC guidelines. 
Can I take transfer from Ukraine to Serbia?
A limited number of seats are available for students who wish to transfer from a medical university in Ukraine to a medical university in Serbia. Your application will be evaluated on the basis of your credits. Please contact us to know more.
What is the flight route to reach Serbia from India?
Many routes are available for traveling from India to Serbia. However, there are no direct flights to Serbia. Most flights go through a layover in UAE (Dubai, Sharjah).