Study MBBS in Georgia – 2023 fee structure, eligibility, best universities
Georgia offers a great career opportunity for medical aspirants looking to study MBBS abroad. MBBS program in Georgian universities is the best way to build a successful future in medicine. Georgian universities rank well globally. Medical education from Georgia is fully recognized all over the globe, making students eligible to practice as a doctor in India or any other country.
Students from India and the rest of the world study MBBS in Georgia to be a part of the European education system and be successful doctors. There are thousands of international students already studying MBBS in Georgian universities.
Medical Education in Georgia
Georgia is a country in the Caucasus region of Europe. Located at the crossroads of Western Asia and Eastern Europe, it is bounded to the west by the Black Sea, to the north by Russia, to the south by Turkey and Armenia, and to the southeast by Azerbaijan. Georgia is a unitary, semi-presidential republic, with the government elected through a representative democracy. Students who look to study MBBS in Europe consider MBBS in Georgia and MBBS in Bosnia as one of their main options. Read more about Georgia at Wikipedia.
Medical colleges and universities in Georgia work towards their international recognition and accreditation. Hence, there are many MCI / NMC approved and WHO recognised medical universities in Georgia. The universities offer a 100% English medium study program to ensure good learning for international students. This is one of the reasons why students choose to study MBBS in Georgia over many other Eurasian countries such as Russia & Ukraine. Following are the main benefits of studying MBBS in Georgia.
Highlights about MBBS in Georgia
Eligible students
50% score in PCB in Sr. Secondary examination
Medium of instruction
English medium
NEET exam requirement
Required. Minimum qualifying score
MBBS program duration
6 years (including internship)
IELTS, TOEFL or PTE
Not required
MBBS program fee
Varies between ₹3.15 Lakhs to ₹5 Lakhs per year
Cost of living (food and accommodation)

₹18,000 per month
Validity in India

Yes, valid.
Application deadline

November 2023
March 2024
Approved by

WHO, NMC, FAIMER, WFME
Why to Study MBBS in Georgia?
Apart from being a beautiful country, Georgia provides various benefits to International students. Students from India and other countries come to Georgia to take medical education since many years. Listed below are some of the reasons why students prefer to study MBBS in Georgian universities.
✓ No Donations
✓ Eligible for USMLE, PLAB; etc
✓ Scholarships for Excellent Students
✓ Covered under ECTS & Bologna Process
✓ Good climate and study environment
✓ Affordable fees & low living cost
✓ Fully English medium program
✓ Safe and secure country
✓ Eligible for educational loans from all leading banks
✓ Degree recognized all over the world
✓ Students can work in any European Country
Studying MBBS in Europe and finally settling there is a dream for every student. MBBS fee in Georgia is comparatively low and the quality of education in Georgia is very high. That is why Georiga is becoming one of the famous destinations for taking medical education in Europe. Many Indian students started going to Georgia after 2011. Hence, studying MBBS in Georgia is preferred by students over other countries.
➦ High-quality education: Universities in Georgia offer significantly better education as compared to private medical schools in India. The focus is put on inheriting practical skills in the student. The students also get access to the latest & modern medical equipment. The good universities in Georgia follow the quality guidelines of the World Health Organization. Hence, studying at a top-rated MBBS University in Georgia ensures success in the medical career of the students.
➦ Lower cost than India and other countries: Studying MBBS in Georgia is a much cheaper option as compared to many other destinations, including India. The tuition fee is Georgia starts at around 3 Lakh per year which is quite fair for the high-quality education that you can get in Georgia.
The cost of living in Georgia is also quite easy on pockets. The average food and living expenses are just around $250 per month i.e. ~ Rs. 18000. Also, there is no donation to take admission to MBBS University in Georgia. So, students can get the best and low-cost MBBS education from the medical universities in Georgia.
➦ Safe, secure, and crime-free country: Georgia is an extremely safe and female dominating country. There is no crime and students from India can freely travel by public transport – buses, trains, or cabs without worries. The majority of the population of Georgia practices Christianity and is God-loving. Georgian people are also very welcoming and accept religious and cultural diversities.
➦ Easy admission process: Unlike in India, the procedure to take admission to MBBS universities in Georgia is very easy. There are no special entrance exams. Students with a minimum of 50% marks in PCB can also take admission to MBBS program in Georgia. The universities focus on skill-building and as long as the students have a reasonable understanding and interest in the world of medicine, they will blend with the course very well.
➦ Good FMCGE (screening test) pass out ratio: Students who studied MBBS in Georgia have a relatively good passing ratio in the FMCGE (a.ka. Screen Test) conducted in India for foreign medical graduates.
Climate in Tbilisi, Georgia

Tbilisi has a humid subtropical climate with warm to hot summers and relatively cold winters. The city receives enough rainfall to avoid the semi-arid classification. The city's climate is influenced both by dry air masses from the east and oceanic air masses from the west.
The average annual temperature in Tbilisi is 12.7 °C (54.9 °F). January is the coldest month with an average temperature of 0.9 °C (33.6 °F). July is the hottest month with an average temperature of 24.4 °C (75.9 °F).
Study MBBS in Georgia (2023 Session)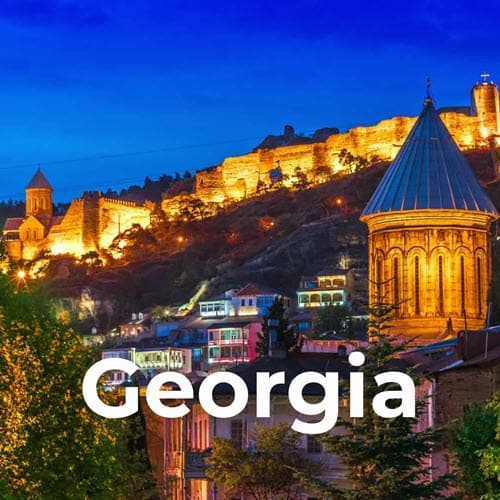 Best MCI Approved University
Fill out the form below for more details about universities and fee structure.
Eligibility conditions to study MBBS in Georgia in 2023
Age requirement: Students willing to study MBBS in Georgia must attain an age of 17 years by 31st December 2022. You can take admission if you have not yet completed 17 years of age if your age will be 17 years by 31st December of the same year.
For example, if your current age is 16 years and eight months in May 2023. Then you can take admission in 2023 since you will complete the age of 17 by the end of the year.
Academic credentials: Students should have completed their Sr. Secondary education, i.e., 10+2 with at least 50% marks in Physics, Chemistry, and Biology.
Students under the SC/ST can get some relaxation in India, however, most universities in Georgia mandate a 50% score in PCB.
NEET exam requirement: As per NMC guidelines, every student must attain a qualifying score in the NEET exam to study MBBS overseas.
English language proficiency: All students must have an understandable knowledge of the English language. Since the study program is in English, students must be capable of understanding and interacting in English.
Admission process to study MBBS in Georgia

The procedure to get admission in Georgia is pretty simple. However, it is a time-consuming task, and hence, students are advised to apply as early as possible to ensure that the admission process completes on time. Here are step-by-step details regarding the admission.
Document submission: You provide the documents which we send to the university. The university then checks the documents and proceeds with the admission.
Offer Letter: The university will conduct a short Skype/Zoom interview. The university then issues a Offer letter or Letter of acceptance.
Ministry Approval: It involves approval from Ministry of Education & Science (MES) and National Center for Educational Quality Enhancement (NCEQE), Georgia. Your educational documents will be translated, notarized and submitted with the ministry. The approval from ministry grants the student a right to study in Georgia. It takes approximately 15 days.
Visa Approval: The university then issues an invitation letter on the basis of the order of Ministry of Education. It is required to apply for the 90-day student visa (D3 category). Visa approval takes approximately 60 days.
Travel: The student can now travel to Georgia after getting his/her visa and start studying in the chosen medical university.
Visa Extension: To extend the duration of stay, the student makes an application to the MIA, Georgia which grants a Temporary Residence Certificate (TRC) allowing the students the right to stay post expiry of visa.
Best Universities for MBBS Study in Georgia (2023 list)
There are many universities in Georgia. We will not confuse you with too many irrelevant options. Here are the best universities to study MBBS in Georgia in 2023. All universities below are fully accredited and fulfils all requirements of the NMC and WHO. They provide for good living conditions and a good inflow of patients in the associated hospitals for clinical experience.
University Name

Type
Tuition fee (yearly)
Admission status
European University (best option)
Private
$5,500
Open for 2023
Iv. Javakhishvili Tbilisi State University (TSU) (

2nd best option

)
Govt.
$8,000
Open for 2023
Alte University

Private
$5,500
Open for 2023
Ilia State University
Govt.
$5,300
Open for 2023
Kutaisi University (

low-cost option

)

Private
$5,000
Open for 2023
University of Georgia
Private
$5,000
Open for 2023
Geomedi University
Private
$5,500
Open for 2023
Tbilisi State Medical University (TSMU)
Govt.
$8,000
Open for 2023
Note: University tuition fees needs to be paid in USD. The fees in Rupees (INR) may change slightly as per the current exchange rates.
Hurry! Save your academic year...
The admissions will shortly close for the year in most Georgian universities. They have already closed for the 2023 session for a few universities. Please do not wait any further; contact us today to take your admissions for MBBS in Georgia.
➦ Free consultation
➦ Choose from the best universities in Georgia
➦ Full support towards admission, travelling and settling in Georgia
Hostel and living facility in Georgia
Universities in Georgia do not provide their hostels to international students. Hence, students must rent an apartment or live in a 3rd party hostel. If you enroll through us, we will help you find a good place to live, whether you want to live in an apartment or a shared hostel. Here are some details about the availability of hostel and food services in Georgia.
100% Indian food cooked by Indian cooks
Vegetarian food and special non-vegetarian arrangements for non-vegetarian students
WiFi connectivity within the hostel
Located at a very short distance from the university to allow quick and easy transit
There is abundant Indian food available in Georgia. So, whether you're vegetarian or non-vegetarian, be assured that you will find high-quality and healthy food. You can take your admission without worrying about food and living.
Comparison with Russia and Ukraine
Many agents are spreading false information about Georgia. This is because they do not have collaboration with MBBS universities in Georgia. Hence, they defame MBBS study in Georgia so that they can send the students to the Ukraine or Russia. However, by facts, Georgia is a much better destination for Medical Studies than Russia or Ukraine.
The majority of universities in Russia offer a bilingual medical course. However, their agents in India do not pass on this information to the students. So, the students who go Russia are taught in the Russian language for the last 3 years of the MBBS course. This affects the understanding of the students and they fail to grasp the information properly.
Similarly, medical universities in Ukraine have a low educational standard. Professors of the Universities ask for money from the students to pass them to the next semester. This allows for students to clear their exams without studying. Students who can afford to pay to the professors clear their exams without studying. Hence, this kills the motivation to study in the students.
There is also tension between Russia and Ukraine making the locations unfit and unsafe for students. Unless the problems amongst Russia and Ukraine gets resolved, we advise Indian students to not risk by proceeding with medical studies over there.
Conclusion: Georgia is a much better destination for MBBS studies. The educational quality in Georgia is unmatched by the likes of Russia and Ukraine. In fact, after China, Georgia is the 2nd best destination to study MBBS.
FAQs About MBBS Study in Georgia
What is the duration of MBBS program in Georgia?
The duration of an MBBS degree from Georgia is 6 years. The students will cover 360 ECTS credits in 6 years, divided into 60 per year. The study program includes an internship.
No university in Georgia can offer a 5-year degree for the undergraduate MD (Medical Doctor) program.
What is the Medium of Instruction in Georgia?
English is the medium of instruction in educational institutes which invite students from outside of Georgia. Georgian, Russian, and English are all used in Georgia for other institutions. So, if you apply from India, your course will be in 100% English medium (assured in the universities which we promote).
How Safe is it to Study & Live in Georgia?
Georgia is a very safe country with a negligible crime rate. In fact, according to the Georgian Journal, Numbeo ranked Georgia at number 3 in its list of the safest countries in the world.
Georgia is ranked at 85th spot as per the Global Peace Index. On the other hand, USA and India rank 103 and 141, respectively.
People of Georgia have a very friendly nature and happily accept religious and cultural diversity. You will have a wonderful stay in Georgia during your study.
Is MBBS from Georgia valid in India?
Yes, MBBS from Georgia is 100% valid in India. Universities in Georgia fulfill the updated requirements issued by the NMC. Students must clear the FMGE screening test or the NEXT (National Exit Test) examination to make their education recognizable in India. Most of the Georgian universities have a good score in the FMGE. Just take admission to a good university and study well during your study program. You will very easily clear the FMGE screening test on your first attempt.
What are the Future Prospects after Completing MBBS in Georgia?
Completing your degree successfully in Georgia opens up a lot of career options. You can either return back to India and clear the exit tests determined by MCI/NMC or you can start working in Georgia itself. You can also move to some other European country to pursue further studies or start practicing as a medical doctor.
Students can practice as a doctor in any country of the European Union
Students can pursue their MD/MS (masters degree) from Germany with following benefits – No tuition fees and a handsome stipend (upto 4000 Euros per month)
Students can come to India and appear in the FMCGE or NEXT exam to validate their education