Study MBBS at European University, Georgia
European University located in Tbilisi, Georgia is focused on training using the European model. The university was founded in 1995. It has been providing high-quality education to the students since then. The quality of education and international exposure makes it one of the best medical schools in Georgia. Many students from India and other countries are already studying MBBS in Georgia at European University.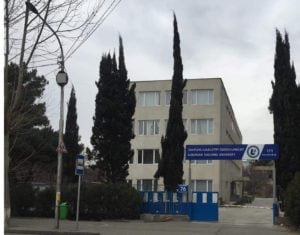 European University, formerly known as European Teaching University (ETU) is one of the most preferred university to study MBBS in Georgia. It was was founded in 1995. The university is focused on training using the European model, competitive to grow up students according to international demands.
European University is approved by the Medical Council of India for Indian students to study MBBS in Georgia. It is also listed by WHO and FAIMER in the world directory of medical schools. After completion of course, students can work anywhere in Europe. Students can also practice in India after taking the exit test (NEXT). Hence, the university opens a lot of career options for the students.
European Teaching  University is staffed by qualified and experienced teachers as well as invited specialists who got educated in the leading universities of Europe. This contributes to the international experience and high-quality, innovation-based learning in ETU.
The university is equipped with the modern technological base and a diverse library with a collection of both paper and e-books. Classrooms of European University are equipped with projectors, display systems and the essential equipment for appropriate programs, which provides all the necessities for quality education. European University also employs Learning Management System for the administration, documentation, tracking, reporting and delivery of educational courses or training programs
Many international students are studying at the European University campus, including the students from India. The university takes services of a specialized agency, which helps international students with shelter, food and security.
University's Partner Clinics & Medical Centers
The university has more than 20 Clinics and Medical Centers as partners. These include:
Chichua Medical Centre "Mzera"
Saint Michael Archangel Multi-Profile Clinical Hospital
Al. Tsulukidze Urology Center
Tbilisi Mental Health Center
Mental Health and Drug Addiction Prevention Center
Institute of Neurology and Neurosurgery
Clinical Pathology Research and Practice Center
Clinical Medicine / Research Institute
Pediatric Private Clinic
Tbilisi Central Hospital
Acad. O. Ghudushauri National Medical Center
Georgian-American Family Medicine Clinic"
S. Virsaladze Research Institute of Medical Parasitology and Tropical Medicines.
The National Center for Ear, Nose and Throat Diseases, Japaridz-   Kevanishvili Clinic
Medical Diagnostic Center
Amtel Hospital
Hepatology Clinic
Hepa
Amtel Hospital First Clinic
Deka
S/R National Center for Dermatology and Venereology
Globaltest
Balneological Resort Tbilisi SPA – National Scientific and Practical Center of Health and Medical Rehabilitation
Video Testimonial from Indian Students Already Studying in ETU
Indian students feel happy, satisfied & proud to be studying in the European University. Hear directly from the students why European University is the best university to study MBBS in Georgia.

Name: European University
Established: 1995
Tuition Fees: $5000 per year
Duration: 6 Years
MCI Status: Approved
Highlights
100% English Medium
MCI NEXT exam training
High-Quality Education at Affordable Fees
Approved by MCI & Listed in WHO directory
Covered under Bologna Process
Follows ECTS (European Credit Transfer System)
Located in Tbilisi, the capital city of Georgia
Indian food
Approved by Medical Council of India
European Teaching University is approved by the Medical Council of India (MCI). Hence, Indian students are eligible to study MBBS in the European University. Students will receive a certificate from MCI. This will allow students to practice anywhere in India.
MCI recognises Medical Doctor (MD) degree provided by ETU as equivalent to MBBS in India.
Other Listings & Certifications
Details of Medical Program
Certified Medical Education Program  (English)
Language of Instruction: English 
Type of the Educational Program : Academic
Status of the Programme – Accredited
Degree Qualification:MedicalDoctor, MD
Duration: 12 semesters
Program Capacity: 360 credits
Preconditions to enrollment in a single-step education program:
Foreign citizens and stateless persons who have received secondary or equivalent education in a foreign country;
Individuals who currently study / have studied in a foreign country and have received credits at an academic institution recognized under the laws of that country.
Program Relevance
Medicine is the most important pillar of the healthcare sector, which applies not only to human health, but also to human life. The diversity of pathologies, and it's variability caused by the influence of social and environmental factors, cause   the allocation of new nosological entities (diseases), which require deep knowledge and high qualification of a doctor, as well as constant updating of knowledge and professional development. The prerequisite to a successful medical practice is receiving high quality basis in medical education. 'Certified Medical Doctor's Program (English)' was established by taking the above-mentioned circumstances into account.
The integrated basic and clinical courses of the program, as well as its research and practice components provide students with the necessary competences that are in line with international medical standards, and train them to be highly competitive on internal and external labor and academic markets.
Objectives of the program
The objective of the program is to prepare specialists in the field of health care for professional practice. Not just to provide theoretical knowledge to the graduates of the program, but also to develop clinical skills and form ethical values which are very important for this profession. The goal is to educate the specialists through  providing high quality teaching and training, so that based on the integration of theoretical and practical knowledge they will know the ways to improve the health of patients and the public, as they learn in norm and pathology:
The basic physical, chemical, biological and physiological patterns, processes and  developments of a human body;
The structure of cells, tissues, organs and organ systems, topography and development in relation to their functions;
Thegeneral regularities of the origins and developments of life, the laws of genetics and the viability of the organism;
Medicine and the main features of its forms, including classification, pharmacokinetics and pharmacodynamics;
Diagnostics, patient treatment and prevention of diseases using practical problem-solving through professional algorithms, work regulations for therapeutic and diagnostic equipment;
Developing skills in medical documentation recording and professional communications, in order to communicate with patients and colleagues orally and in writing, including communicating in a foreign language;
The program aims to develop hygienic, healthy, and environmentally safe values instudents, and promotes acknowledgement of the importance of a continuous medical education and professional development.
Volume of the Academic Program
The program is based on the ECTS- European Credit Transfer and Accumulation System, it is  student-oriented and is focused on the  academic workload required to achieve the objectives of the  academic program.
The program consists of 360 credits. 1 credit = 25 hours.  360 credit hours = 9,000 hours.
Units of credit (in hours) reflects the amount of work that is needed for  the student to master one component of the program and to achieve the learning outcomes.
Credit includes contact and independent work hours.
It is recommended for the student to obtain an average of 30 credits (30 credits = 750 hours) per semester, and 60 credits per year, however, given the scale of the individual student workload, the amount of credits can be more or less than 60, but cannot exceed 75.
Program Structure
Single-step medical academic certificate program consists of 360 credits distributed in the following manner:
Language component – 10 credit
University compulsory courses – 6 credit
University elective courses – 8 credit
Specialty compulsory courses – 296 credit
Specialty elective courses – 10 credit
Research component – 10 credit
Clinical practice component – 20 credit
The program is focused on providing the students with knowledge and skills in the field of medicine necessary to obtainthe academic degree of medical doctor. The development of necessary competencies for the achievementof the above-mentioned result, is based on a synthesis of various components of the program. The program is designed in a way to help the students fully understand  medicine in general as well as the separate sub-disciplines of the field. It also includes academic components which define auxiliary knowledge (general intellectual, communicative competence)  as well as training courses for development of skills necessary for research and scientific activities. The sequence of formation of competencies that need to be achieved and their evolution defines the content of the program, its structure and is reflected in the curriculum (Appendix 1). A map  of the competence  formation is appended to  the program.
Language component (10 credits) is focused on English language, as the main communication language in the field of medicine, on learning the industry terminology and communication skills, as well as learning medical terminology in Latin language as a medical communication tool. The language component is also focused on integration of foreign language sources in the process of teaching and learning, enhancing the element of internationalization, and increasing employment opportunities.
Mandatory Training Component of the University Courses(6 credits)isfocused on the development of written and verbal communication skills and for the purpose of researching and transmitting information, on the development of creative skills in using information and communication technologies.
University Elective Course Component (8 credits)is focused on expanding students' perspective, promoting the formation process of values, stimulating abstract, analytical, logical thinking, and developing argumentative conclusion skills; facilitating communication in another foreign language using specific terminology.
Component of the Compulsory Training Courses (296 credit) is focused on providing broad knowledge of the healthcare field, promotion of complex issues in medicine, adopting the necessary skills for identification and solution of the problems which come across during practical activities, constantly upgrading knowledge, and stimulating the professional work necessary for the formation of values. Compulsory training courses include:

Block on natural sciences, medico-biological and fundamental disciplines(109 credits);
Block on medico-preventive disciplines (16 credits);
Block on clinical disciplines (171 credits), which also incorporates therapeutic and surgical training courses.
Specialty Elective Courses component (mandatory 10 credits) is focused on the deepening of the wide range of acquired knowledge through mandatory training courses.
Clinical Practice Component (20 credits) is focused on the practical realization of the theoretical knowledge acquired during the learning process, and the usage of the developed skills in practice Mentioned component enables students to use the theoretical knowledge and skills, acquired in an academic environment in a clinic and receive practical experience.
Research Component (10 credits) is focused on learning scientific research methods, for writing theory-based academic papers and development of presentation skills.  It includes the selection of the research topic and setting a working plan,  data collection and proper handling, drawing conclusions and defending publicly.Research study should reveal the level of knowledge and practical skills in line with the quality and outcomes of the single-step medical certificate program with its compulsory and optional components, and should be strengthenedwithin a particular topic.
Within this program, the certified medical doctor will develop the theoretical knowledge and practical skills, which will enable him/her to professionally develop further, adapt to the labor market and will give him/her the opportunity of professional orientation.
Note: Elective courses are chosen according to educational program curriculum, and according to the prerequisites and the sequence of taking those elective courses.
From the proposed six (6) elective courses (16 credits) the student has to choose three (3) academic courses (8 credits) of their choice.
From  speciality elective  ten (10) academic courses (20 credits), students must choose: two courses from the medico-social disciplines  block (4 credits) and  3 academic courses (6 credits) from the block of clinical disciplines.
To achieve the learning outcomes of the program the university is provided with substantive material-technical base: the necessary study auditoriums/classrooms, the library fund, working space for academic staff, information and communication technologies, internet, clinical bases, all which are necessary to achieve the learning objectives of the program.
The university is equipped with access to international electronic library network. The building of the university is equipped with necessary facilities for the implementation of the program.

Who Can Apply?
Students who have passed 10+2 (or equivalent) with aggregate 50% marks in Physics, Chemistry, Biology and English can study MBBS in Georgia. All applicants should be at least 17 years old to take admission in the European Teaching University.
Students also need to have a qualifying score in NEET 2021 (or previous 3 years). To know the cutoff, refer this blog post.
Intermediate English speaking and listening skills. No IELTS or TOEFL is needed.
Documents for Application
Passport (all pages)
School Certificate, XII Mark Sheet
Passport-size photographs with white background
Documents for Visa
Admission letter
University Rector's decree and certification from MEA, Georgia
Class XII Mark Sheet, apostille from MEA, New Delhi
Air Ticket
Proof of accommodation in Georgia
Medical and Travel Insurance
Front and back page of passport
University Fees Deposit Slip
Photograph with 80% face and white b/g
A sponsor's letter (affidavit) from parent (or financial sponsor)
Bank account statement of sponsor
Students are advised to apply for relevant documents (such as Passport) already if they don't possess them. We will help you in getting all the necessary approvals and procedures all the way till you reach the university.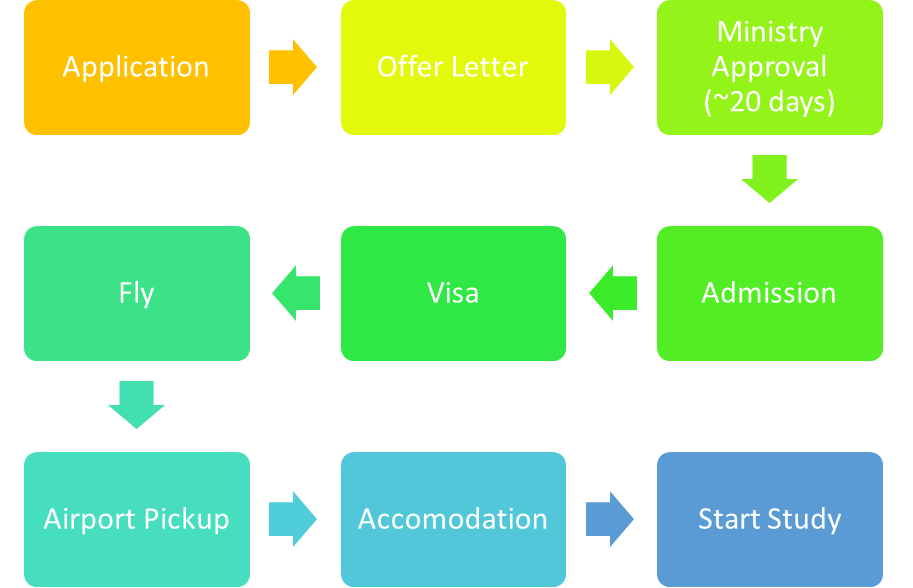 Enroll Yourself Today!
We are the only authorised representatives of the European University in India